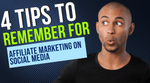 Social media is becoming an increasingly popular platform for affiliate marketing, as it provides a wide range of options for connecting with potential customers. 
Affiliate marketing on social media is a popular and effective way to promote products and services online. It involves partnering with a brand or company to promote its products or services through social media channels. The affiliate earns a commission for each successful sale or action taken by a user through the affiliate link. 
In this guide, we show you some steps to ensure successful affiliate marketing on social media.
1) Set Your Affiliate Goals
When you are getting started with affiliate marketing on social media, it is important to set your affiliate goals. Having clear and measurable goals will help you stay focused as you work on your affiliate marketing strategies. It is a good idea to set both short and long-term goals so that you can track your progress and adjust your strategies as needed. 
Your goals should be specific, and achievable and have a timeline for when you plan to reach them. By setting clear goals and tracking your progress, you will be able to stay motivated and on track to achieve success with your affiliate marketing.
2) Set Up a Payment Model
Setting up a payment model is an important step in affiliate marketing on social media. It will determine how much you will be paid per sale, or what type of commission you will receive for your affiliate sales. It is important to make sure the payment structure is fair and beneficial to both the affiliate and the merchant. 
It is also important to consider the payment cycle and make sure it is frequent enough that affiliates can receive their payments on time. Lastly, consider setting up bonuses for affiliates who reach specific performance goals.
3) Determine Your Tracking Methods
Determining your tracking methods is a crucial part of affiliate marketing on social media. It's important to keep track of the success of your campaigns so you can see which ones are performing well and which ones need improvement. 
The most effective tracking methods include using unique tracking URLs for each campaign, using a third-party tracking service, or setting up goals in Google Analytics. By tracking your campaigns, you will be able to make informed decisions about which ones are working and which ones need to be adjusted.
4) Find Your Affiliates
Finding your affiliates can be a challenging task but it is essential for successful affiliate marketing on social media. A great way to find potential affiliates is to look for influencers in your niche who have a large following. These influencers can be a great way to reach a broader audience and increase the chances of your product being seen. 
You can use social media channels to find affiliate programs and networks that are relevant to your product. By joining these programs, you can connect with other affiliates and create valuable relationships that can lead to more sales in the future.
Conclusion
Affiliate marketing on social media is a powerful way to reach a larger audience and increase your sales. However, it is important to remember that it takes time and effort to build successful relationships with affiliates. By following the tips outlined above, you can set yourself up for success and start seeing results from your affiliate marketing campaigns.
When it comes to affiliate marketing campaigns, Ecom Chief has you covered. We can help you find affiliate businesses for sale for your needs. Get in touch with us today to learn how.