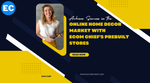 Do you dream of establishing a successful online home decor business? Ecom Chief's prebuilt e-commerce stores offer the perfect platform to launch and grow your business in the thriving home decor market. In this article, we will discuss the advantages of partnering with Ecom Chief, outline the crucial steps to start your online home decor store, and provide top strategies for long-term success. Let's dive in!
Ecom Chief's Prebuilt Stores: Advantages for Your Online Home Decor Business
By opting for an Ecom Chief pre-built e-commerce store, you set your online home decor venture up for success, thanks to these key benefits:
Quick and Seamless Store Launch
Bypass the time-consuming process of building an e-commerce store from scratch by utilizing Ecom Chief's expertly designed prebuilt solutions.
Professional Design and Superior User Experience
Capture your customers' attention with beautiful store designs and an easy-to-navigate shopping experience that keeps them engaged and eager for more.
Customized Features for Home Decor Businesses
Maximize your store's appeal and functionality with specialized features tailored to home decor businesses, such as product filters, wish lists, and high-quality image galleries.
Continuous Support and Expertise
Rely on Ecom Chief's experienced team to provide ongoing guidance and support that will help your online home decor business flourish.
Starting Your Online Home Decor Store: Key Steps
To successfully launch your online home decor store, follow these crucial steps:
Find Your Home Decor Niche
Identify a specific home decor niche or targeted audience, which will enable you to offer unique products and develop tailored marketing campaigns.
Source Quality Products and Suppliers
Establish relationships with reliable suppliers that provide high-quality, stylish, and unique home decor products at competitive prices.
Craft a Memorable Brand Identity
Create an engaging brand identity, including a captivating name and logo, a clear brand voice, and distinctive visual elements.
Develop Customer-Friendly Store Policies
Ensure customer satisfaction by creating transparent and fair store policies for shipping, returns, and privacy protection.
Strategies for Long-Term Success in the Home Decor Market
With a solid foundation in place, follow these strategies to ensure long-lasting success for your online home decor business:
Engage Customers Through Content Marketing
Attract and maintain a loyal customer base by producing informative and engaging content, such as blog articles, home styling tips, and design inspiration.
Boost Visibility with Social Media
Utilize platforms like Instagram and Pinterest to showcase your products, share design inspiration, and connect with your target audience.
Leverage Influencer Marketing
Partner with home decor influencers who can promote your products and build credibility, attracting new customers to your store.
Prioritize Excellent Customer Service
Cultivate brand loyalty and encourage repeat business by delivering top-notch customer service. Address customer inquiries promptly and professionally, and use feedback to refine your store's offerings.
Diversify Product Categories
Expand your product range to cater to different customer preferences and market segments, while keeping an eye on industry trends that may present new opportunities.
Offer Personalized Shopping Experiences
Harness customer data to deliver customized shopping experiences, such as tailored product recommendations and targeted marketing campaigns.
Stay Informed About Industry Trends
Monitor market trends in the home decor industry and adapt your product selection and business strategies accordingly to remain competitive and retain customer interest.
Utilize Data to Guide Decision-Making
Take advantage of data analytics tools to track your store's performance, identify opportunities for improvement, and make informed decisions.
Conclusion: Start Your Venture in the Right (and Smooth-Sailing) Direction
Ecom Chief's prebuilt e-commerce stores provide the ideal solution for launching and growing a profitable online home decor business. The swift store setup, professional designs, customized home decor features, and ongoing support from Ecom Chief's team put you in the best position for long-term success. 
By mastering the essentials and applying effective growth strategies, your online home decor store can stand out in the competitive market and achieve lasting prosperity. To that end, are you ready to launch your online home decor business with Ecom Chief's prebuilt stores? 
Explore our e-commerce business for sale and experience the benefits of a professionally designed store, tailored features, and expert support. Contact us today to choose the perfect store for your niche and kickstart your journey to a thriving home decor business.