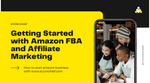 Ecommerce and online retail continue to grow rapidly, and one of the most popular models for starting an online business is Amazon FBA (Fulfillment by Amazon). The Amazon FBA program allows you to sell products on Amazon while leveraging their massive fulfillment network to store and ship your products. This eliminates the need for you to deal with logistics and allows you to focus on sourcing products and marketing.
Another great way to make money online is through affiliate marketing. This simply means you promote other companies' products and get a commission when someone makes a purchase through your affiliate link. The two business models work very well together, allowing you to both sell your own branded products on Amazon while also earning affiliate commissions by promoting complementary products.
Getting Started with Amazon FBA
When getting started with Amazon FBA, one of the easiest ways is to buy an existing Amazon FBA business that already has products listed and making sales. This allows you to hit the ground running instead of having to source products and build up reviews from scratch. Sites like eComChief offer a marketplace to buy ready-to-go Amazon FBA businesses in many different niches.
Finding the Right Products to Sell
Product research and sourcing is a key component of running a successful FBA business. You want to find products that have good demand and that you can buy at a wholesale price that allows you to sell profitably on Amazon. Great resources for product research include the Amazon Best Sellers lists, Amazon category and search data using tools like Jungle Scout, and sourcing agent websites like Spocket and Dropshipper.
Leveraging Affiliate Marketing
Once you have your own products listed on Amazon, you can supercharge your ecommerce business by combining it with affiliate marketing. Find complementary products made by other brands and become an Amazon affiliate to earn commissions by promoting them. This provides you with additional revenue streams beyond just your core products.
Great affiliate programs to look at include Amazon Associates, ShareASale, and niche programs like Epic Gardening for gardening supplies. Promote these through your Amazon listings, website, email list, and social media.
Tips for Amazon FBA Success
Here are some key tips for building a successful Amazon FBA business:
Focus on product quality and positive reviews
Run promotions and discounts to boost sales
Drive external traffic to your listings via marketing
Automate and outsource where possible
Analyze data to identify opportunities
Reinvest profits into growth and new products
Wrapping Up
Amazon FBA provides an amazing platform to start an online business without major upfront investment. By combining it with affiliate marketing, you can build multiple income streams and maximize your success. Check out eComChief's listings for profitable Amazon stores ready to take over today.