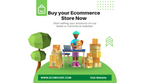 Ecommerce websites for sale are becoming increasingly popular as more and more businesses are turning to online sales to reach a wider audience and increase revenue. Whether you're a seasoned ecommerce entrepreneur or just starting out, buying an existing ecommerce website can be a great way to jumpstart your online business and avoid the time and expense of building a website from scratch.
When looking for ecommerce websites for sale, it's important to consider a few key factors. First, consider the niche or industry that the website is in. Are you familiar with the products or services that the website sells? Do you have experience in that industry? If not, it may be best to look for a website in a niche that you're more familiar with.
Next, consider the website's traffic and revenue. A website with a lot of traffic and a strong revenue stream is more likely to be a successful investment than a website with little traffic and no revenue. Look at the website's analytics and revenue reports to get a sense of its current performance.
Another important factor to consider is the website's design and user experience. A well-designed and user-friendly website is more likely to convert visitors into customers. Look at the website's layout, navigation, and overall aesthetic to determine whether it is user-friendly and easy to navigate.
Finally, consider the website's scalability. Can the website be easily scaled to accommodate growth in traffic and revenue? Are there opportunities for expansion and growth? A website with scalability potential is a better investment than a website that has reached its maximum potential.
In conclusion, buying an ecommerce website can be a great way to jumpstart your online business and avoid the time and expense of building a website from scratch. When looking for ecommerce websites for sale, consider the niche or industry, the website's traffic and revenue, the website's design and user experience, and the website's scalability. Check out Ecom Chief's inventory for ecommerce website for sale