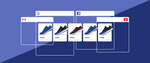 When you're running an online store, how do you get "foot traffic"?
How do people find out about your store? How do they discover your products? Retail businesses have always relied on their storefront—and the rent they pay—to get in front of interested customers.
For ecommerce businesses, paying for ads is the new rent.
Paid ads offer you exposure similar to a storefront, but with the added benefit of being able to pick and choose exactly who sees them. But running paid ads is getting more complex every day. From pixels to keywords, there's always something new to learn, and it's tough to keep up as a small business.
That's why we're launching Marketing in Shopify: A new place to help you create, launch, and measure campaigns. We've streamlined the process to make running a successful ad campaign easier than ever, and you can start a Google Smart Shopping campaign and Facebook ads in Shopify today.
Run your first campaign on Shopify
Simplifying the world's largest ad platforms
Google and Facebook attract billions of engaged users every day. Your ideal customers are already on these platforms, so we're making it even easier to reach them.
Now you can create, manage and track your marketing all in one place, directly in Shopify. No more tab overload as you switch between multiple platforms.
Google Smart Shopping campaigns
Shopify is the first commerce platform to integrate Google's new Smart Shopping campaigns. Smart Shopping lets you run an effective Google campaign without having to be familiar with advanced ad settings because Google's Smart technology will handle the hard work for you.
Set a daily budget in Shopify and your campaigns will optimize for the highest sales value by automatically choosing which products to advertise, how much to bid, and who to target.
Google will pull your product information straight from Shopify, automatically create ads, and show them to the most relevant audiences in the most relevant locations on desktop and mobile, including Google search, Gmail, YouTube, and Google Display Network. As your ads run, Google's Smart technology will analyze the results and use them to optimize your campaign, with no need to tweak settings yourself.
Facebook ads
Starting today, you can also run one of the most effective Facebook ad types right in Shopify: Carousel ads.
Facebook's carousel ads give you more room to tell a story than a static ad. You can include up to five products or images, and the format encourages people to click through to learn more. We've even baked a few best practices into the setup process to help ensure you're targeting the right audience for your unique products and goals.
We're working on support for other types of Facebook marketing including social posts, so stay tuned.
Get (and track) results faster
When you're setting up ads in Shopify, you can build entire campaigns in minutes. Whether you're creating a Google Smart Shopping campaign or a Facebook ad, Shopify will automatically populate the ad with product images, titles, and descriptions from your store.
Once your campaigns are running, you'll be able to track your results in Shopify, so you won't have to switch platforms to compare results. We'll also help remove the guesswork from the process by providing recommendations for next steps based on your unique store and campaigns.
And when you're using paid ads, you'll likely see those results faster. Paid ads are one of the quickest ways to grow your business.
There are plenty of free marketing tactics you can use, but what those techniques don't cost in money they cost in time. When you're looking to drive quick results during key shopping seasons like BFCM and the holidays, paid ads remain one of your most viable options, especially if your business is just getting started.
Campaigns just got easier
Google and Facebook ads are undeniably effective ways to reach your ideal customers and drive new revenue, but the growing complexity of each platform has been a roadblock, especially for smaller teams and businesses.
Our partnerships streamline the entire process of creating, managing, and tracking your campaigns so you can quickly set up effective ads and monitor their progress—no marketing degree or intensive study required.
We'll be adding powerful new tools in the future, too, including integrating some of your favorite apps from the Shopify App Store to help simplify even more of your marketing.
Courtsey Shopify