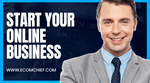 Starting an online business can be an exciting and rewarding venture. With the rise of the digital age, it has become increasingly easy to start an online business and reach a global market. 
In this article, learn about why you should consider going online and how you can start your new business.
Why Should You Start an Online Business?
There are many benefits to starting an online business, including low startup costs, the ability to run your business from home, and the potential for major growth opportunities. 
It's an Inexpensive Venture
The first major benefit of starting an online business is that it is an inexpensive venture. You don't need to rent a storefront or pay for expensive advertising. All you need is a computer and an internet connection, and you can get started right away.
You can use online tools and services to create a basic website, and you don't need to hire an expensive web designer. This makes it easy to get started without a large investment.
Online Businesses Are Always On
Your website and services are available 24/7, so you don't need to worry about closing times or missing out on potential customers. You can also automate many of your tasks, such as responding to customer inquiries and processing orders, so you can focus on other aspects of your business.
You Can Do It Safely at Home
Another great advantage of starting an online business is the convenience of being able to work from anywhere with an internet connection. This means you can work from home, in a coffee shop, or even while traveling. You don't have to worry about commuting to work or taking time off to go on vacation.
Online Businesses Have Major Growth Opportunities
With the right marketing strategy and tools, you can reach a global customer base and grow your business exponentially. There are a variety of marketing tools available to help you reach potential customers, including social media, email campaigns, and search engine optimization.
How to Start an Online Business
Before jumping into the online business world, there are three important steps to consider: deciding on a business niche, opening an eCommerce store, and considering dropshipping. 
Decide on a Business Niche
The first step to starting an online business is deciding on a business niche. This is the type of product or service you'll be providing. It can be anything from clothing to electronics, jewelry to pet supplies.
It's important to choose a niche you're passionate about, as this will make it easier to market your business and build a loyal customer base. It's also essential to do some market research to ensure a demand for your product or service.
Open Your eCommerce Store
There are a number of eCommerce platforms available, such as Shopify, BigCommerce, and WooCommerce, which make it easy to set up an online store. You'll need to choose a domain name for your store, as well as a payment processor to accept payments from customers. You'll also need to choose a design for your store, add products, and create product pages.
Consider Dropshipping:
Dropshipping eliminates the need to store and ship products. Here, you partner with a dropshipping provider, who will store and ship products on your behalf. This allows you to focus on marketing your business and providing customer service, without worrying about the logistics of product storage and shipping.
Final Thoughts
Starting an online business can be a rewarding experience and a great way to make money. However, it is important to take the time to plan and consider all of your options before getting started.
If you're looking for eCommerce businesses for sale, get a headstart with Ecom Chief. We have over a decade of experience running profitable online businesses — let us help you start yours! Contact us for more information.