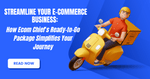 Introduction:
Starting an e-commerce business from scratch can be an intimidating and complex process, filled with numerous challenges and intricacies. With multiple aspects to consider – such as market research, supplier management, website creation, and effective marketing strategies – aspiring entrepreneurs often find themselves overwhelmed and unsure of where to begin. The key to overcoming these challenges lies in simplifying and streamlining the process by leveraging expert solutions designed to support businesses in their e-commerce journey.
Ecom Chief, a seasoned player in the e-commerce industry with over a decade of experience in running successful online businesses, offers their "ready-to-go" online business package as a comprehensive solution to address these challenges. The package, tailored to fulfill the varied needs of ecommerce entrepreneurs, includes meticulously researched and curated components – such as suppliers, website creation, marketing tools, and training – to ensure businesses have everything they need for success.
In this blog post, we will explore the advantages of utilizing Ecom Chief's ready-to-go online business package as a means to streamline e-commerce business operations and simplify the journey to entrepreneurial success. From discussing the key challenges faced by those starting from scratch to showcasing the benefits of partnering with Ecom Chief, we aim to equip readers with valuable knowledge and insights to help them achieve their e-commerce goals.
The Key Challenges in Starting an E-commerce Business from Scratch
Taking the leap to start an e-commerce business can be daunting, with numerous challenges and obstacles to overcome. Some of the key issues faced by aspiring entrepreneurs include:
- Market Research: Identifying profitable niches, understanding customer preferences, and analyzing competitor strategies require extensive research and expertise.
- Supplier Management: Finding reliable suppliers, negotiating favorable terms, and managing inventory can be time-consuming and complex.
- Website Creation: Building a user-friendly, responsive, and visually appealing website demands technical know-how and design proficiency.
- Marketing and Promotion: Crafting effective marketing strategies, mastering advertising platforms, and optimizing campaigns necessitate continuous learning, monitoring, and adaptation.
These challenges can be overwhelming for those just starting out, making it crucial to seek expert solutions that alleviate these pain points and simplify the e-commerce journey.
Overview of Ecom Chief's Ready-to-Go Online Business Package
Ecom Chief's comprehensive ready-to-go online business package is designed to support aspiring entrepreneurs through every stage of their e-commerce journey, simplifying the process and providing vital resources. The package includes:
- Extensive Research: Ecom Chief conducts in-depth market analysis, trend assessment, and niche evaluation to help entrepreneurs identify and enter profitable markets.
- Hand-Picked Suppliers: The team at Ecom Chief seeks out reliable, high-quality suppliers to provide businesses with a dependable supply chain and product sourcing.
- Customized Website Creation: Ecom Chief's experts craft visually stunning, user-friendly websites tailored to individual businesses, ensuring a smooth and efficient online presence.
- Cutting-Edge Marketing Tools: The package offers state-of-the-art marketing tools and resources, helping businesses successfully promote their products and drive sales.
- Comprehensive Training: Ecom Chief provides extensive training materials and support to empower business owners with the knowledge and skills required for e-commerce success.
The Benefits of Opting for Ecom Chief's Comprehensive Solution
Choosing to partner with Ecom Chief and leverage their ready-to-go online business package offers a myriad of benefits for new e-commerce entrepreneurs, including:
- Time and Cost Savings: By providing ready-made solutions, Ecom Chief helps businesses save valuable time and resources spent on market research, website development, and supplier management.
- Expert Guidance: Ecom Chief's team of seasoned professionals leverages their industry experience to guide businesses to make informed decisions and avoid common pitfalls.
- Simplified Operations: The comprehensive package streamlines the e-commerce process by offering a single, all-inclusive solution, alleviating the stress of managing multiple tools and partners.
- Ongoing Support: Ecom Chief's commitment to providing continuous support ensures businesses have access to expert assistance for long-term growth and success.
How Ecom Chief's Package Streamlines E-commerce Business Operations
By offering an all-in-one solution, Ecom Chief's ready-to-go online business package directly addresses the key challenges in starting an e-commerce business, streamlining operations and simplifying the journey to success. Here's how the package's various components help streamline each aspect of online business development:
- Research: Comprehensive market analysis and trend identification capabilities allow entrepreneurs to quickly and confidently identify lucrative niches, streamlining the decision-making process.
- Supplier Management: With pre-selected, reliable suppliers on board, businesses can avoid the hassle of sourcing products and focus on driving sales and growth.
- Website Creation: Ecom Chief's customized websites offer a seamless blend of functionality and aesthetics, ensuring convenient ongoing maintenance and a superior user experience – all without the need for coding knowledge.
- Marketing and Promotion: Cutting-edge marketing tools and resources simplify the process of promoting products and services, enabling businesses to build a brand presence and reach customers more effectively.
Success Stories: Entrepreneurs Who Achieved Success with Ecom Chief
Numerous entrepreneurs have harnessed the power of Ecom Chief's ready-to-go online business package to achieve e-commerce success. One such entrepreneur is Jane, who experienced overwhelming success through her partnership with Ecom Chief. Jane leveraged Ecom Chief's comprehensive solutions and expert guidance to build a thriving online business selling organic skincare products. The support, tools, and resources provided by Ecom Chief ultimately paved the way for the exponential growth of Jane's business and her journey to e-commerce prosperity.
Conclusion
Starting an e-commerce business from scratch can be a complex and challenging endeavor. However, with the right support, resources, and expertise, aspiring entrepreneurs can streamline their operations and simplify the journey to success. Ecom Chief's ready-to-go online business package offers comprehensive solutions designed to address the unique challenges faced by new e-commerce businesses.
By leveraging Ecom Chief's expert solutions, entrepreneurs can save time, reduce costs, and focus on driving growth. Their partnership simplifies e-commerce operations, empowering business owners to achieve long-term success. Ready to take your e-commerce ambitions to new heights? Choose Ecom Chief's ready-to-go package and experience a world of streamlined operations and unlimited e-commerce potential. If you want to buy an ecommerce site, contact Ecom Chief.