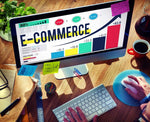 2020 and 2021 have been years of major disruption — from changes in supply chains to accelerated adoption of new digital technologies. But few industries have seen as much disruption as e-commerce and retail.
McKinsey estimates that the world saw 10 years' worth of e-commerce adoption compressed into three months.[1] The shift to an e-commerce-first paradigm took place across many markets, leading to an increase in e-commerce activity in both demand and supply of goods.
This proliferation of e-commerce businesses in turn spawned an increase in e-commerce advertising, with online businesses employing different types of paid advertising and adopting various e-commerce advertising strategies to help them reach their target consumers.
In this article, we'll look closely at paid advertising, focusing on why it is important for businesses. In addition, we'll share some key advertising strategies that can help your business succeed in this new digital age. We'll then delve deeper into social media advertising and share a breakdown of the invaluable advertising tools available to you. So, let's get into it!
What is Paid Advertising?
Simply put, paid advertising is advertising that you as the advertiser have to pay for. This is different to other forms of advertising, such as advertising run on digital channels controlled by your company (owned advertising), or advertising or coverage generated through promotional activity, PR, or third-party influencers (earned advertising or earned media).
With paid advertising, you pay for ad space on the digital platforms that you think will be best suited to reach your consumers. The price for paid ads can differ depending on the ad formats being used, the campaign types being run, and the performance targets being aimed at.
So now that you have an idea of what paid advertising is, your questions might include: "Why is it important?" "What can it do for my business?" Well, we're glad you asked, because in the next sections, we'll be looking at why paid advertising has become so important in the digital age, and why you need to integrate it into your business' overall advertising strategy. We'll then get into the "how," so you'll have a practical insight into how to create and run a winning strategy!
Why Is Paid Advertising Important?
Paid advertising has become one of the quickest ways for brands to reach their target consumers. Here are some important ways in which to incorporate advertising into your overall strategy:
Allowing Advertisers to Reach Audiences Where They Are
Digital media consumption, as opposed to traditional media consumption, has increased significantly world-over. Due to the pandemic, there was a marked increase in overall media consumption in both 2020 and 2021. Furthermore, digital media consumption in particular saw a significant spike — in the US alone, digital consumption rose by 30%, and these new consumer habits are expected to hold.[2]
This reduction in traditional media consumption also translates into a reduction in the reach of traditional advertising, which incorporates TV commercials, radio ads, mail, billboard ads, door-to-door sales, and newspaper ads.
Advertisers are noticing this shift in consumer behavior, as prospective customers change their viewing and listening habits with a shift to digital. Paid advertising, or advertising through paid digital platforms, is enabling advertisers to reach consumers where they are — on digital platforms.
Generating Increased Traffic
In the past, when most stores were traditional brick and mortar stores, businesses relied on physical foot traffic to attract customers, or the limited word-of-mouth advertising from the circles of customers within the vicinity of the store.
Now, things have changed. The Internet has caused the democratization of commerce and retail, meaning that store owners are no longer limited by their physical locations in their search for customers.
Wider reach is enabling businesses to generate higher traffic. Paid advertising is enabling businesses to curate how many impressions are made by their advertising content and online store visits.The amount of customers generated through advertising does vary based on budgets, but by using this method, there is no cap as to how many people can engage with your business based on physical limitations.
Offering Effective Targeting
Being able to curate how many people can see your advertising content is one thing, being able to curate who will see it is another. This is the type of specific targeting that paid advertising can enable.
Advertisers can now specify which audience their content targets. The targeting can be as vague or specific, down to the page a target user likes or keywords they have searched.
This level of targeting has had unprecedented success because of how effective it is at increasing brand awareness among people to whom the advertising content is highly relevant. This relevance increases the likelihood of converting viewers into customers or convincing them to follow through with desired actions.
More Cost-effective
After all is said and done, it is really about the bottom line. Advertisers will go where they feel they can get the greatest reach at the lowest cost, and paid advertising on digital platforms has proven that it can deliver.
The fact of the matter is that digital advertising has been able to deliver significantly more return on investment (ROI) on advertising campaigns than legacy media has been able to do. Figures from the Uhuru Network show that online outlets, such as social media, have a cost-per-thousand impressions (CPM) of only $3, while the equivalent on traditional outlets, such as TV and radio, have a CPM as high as $28 and $10, respectively.[3]
What Kind of Advertising Strategies Work in 2021
It is imperative that the advertising strategies businesses adopt for 2021 and beyond actually respond to or become sensitive to changes in customer lifestyles and spending habits. Below are some key ideas of what kinds of advertising strategies will be the most effective in 2021.
1. Humanize Content and Solve Problems to Form Personal Connections
For a customer to be able to form a strong connection with brands, they need to know the "why" behind the brand and feel like the brand is speaking to them on a personal level. This is why in 2021, it will be important to ensure that your advertising content and ad copy is memorable and encourages greater emotional resonance with your consumer.
This can be done by personalizing your brand and its identity so it speaks to the specific pain points and needs of your target customers. Following this, you should proceed to present your brand's products or services as natural solutions to these problems or needs.
This advertising strategy is called solution-selling and it enables your brand to be associated with your customers' needs, keeping it at the front of your customers' minds. Every time consumers have a problem that your business addresses, they'll think of your brand.
2. Sell on Social Media
Social media is one of the foremost channels driving e-commerce in this digital age. Statistics show that 89% of marketers choose Facebook as one of their primary online marketing engines. This fact, coupled with the fact that up to 90% users on Instagram follow at least one business page on the platform, show the significant impact that social media now has on business.[4]
Considering this, it has become imperative for business owners to strengthen not just their online selling abilities, but also their "social selling" abilities. Social media is not just useful for the commerce aspect of your business, but also in enabling you to build communities from the consumers who follow you, which ultimately leads to greater customer loyalty and a consolidated customer base.
3. Perfect Your Visual Strategy and Engage New Technologies Like AR & VR
Visual strategy is a key aspect of social media advertising. This is because visual content performs significantly better on social media platforms. Stats from Facebook show that content featuring images actually gets 2.3 times more engagement compared to content without images. Similarly, video-based content on Twitter gets 10 times the engagement of non-video-based content.[5]
With new innovative visual technologies, brands are able to enhance their shoppers' buying experiences by offering them visualization tools, such as 360° VR content and three-dimensional viewing experiences that bring out product features and increase "shoppability" to compel consumers to make purchases.
4. Focus on Customer Retention
The past two years have seen customers change their buying patterns and become less adventurous in their spending. This has meant that customers are less likely to try out new products or services, unless they offer greater value than what the previous products or services offered.
To increase customer retention, you can maintain email lists and use email marketing to send promotional messages. You can also offer customer loyalty programs and subscriber perks that include special offers such as discounts, free trials, or exclusive deals.
These strategies help increase customer satisfaction levels, strengthen customer loyalty, generate positive word of mouth, and increase the likelihood of existing customers returning to engage with your brand. Statistics also strengthen this argument, with businesses that increase their customer retention by at least 5% actually boosting their profits by 25–90%.[6]
5. Strengthen Your SEO, Text and Voice
Keywords are the language of search engines. That is why you must ensure that all your digital content is search engine optimized, incorporating the relevant keywords or keyphrases to ensure that your ad content or product information pages are ranked highly by search engines.
This imperative of strengthening SEO goes beyond text-based SEO. Considering the increased adoption of voice assistants such as Amazon Alexa, Google Assistant, and Apple Siri, as well as integrations made with smart home infrastructure, you should also consider optimizing your content for voice search.
This can be done by putting focus on long-tail keywords that actually reflect the ways in which consumers search for products or voice their questions and requests using these voice assistants. Figures from Google show that up to 22% of users use voice search when they are looking for the details of local businesses on the search engine.[7]
6. Engage Micro-influencers
Micro-influencers have gained significant traction during this pandemic period, quickly becoming a pivotal aspect of marketing strategies. Part of this is because, as already discussed, digital media consumption has spiked over the past two years.
The other reason micro-influencers have risen in popularity is because they are highly relatable compared to the traditional celebrity macro-influencers. The element of trust is also key as micro-influencers are seen as more trustworthy than brand representatives or celebrities.
Micro-influencers have already built trust with their communities of followers and so when a brand partners with them, it is able to leverage this existing trust relationship. Studies show that 40% of people report purchasing products online after seeing it used by an influencer on Instagram, YouTube, or Twitter. Clearly, this is a strategy worth investing in for your business.[8]
Paid Advertising Methods
The below are the different types of paid ads that advertisers can choose from when embarking on different marketing campaigns.
Search Ads
These ads are displayed within the search results of the user's search engine. Advertisers can create search ads on search engines such as Google, Yahoo!, Bing, and many others.
Using Search Engine Optimization (SEO), the advertiser's ad is displayed when browsers search for certain keywords.
Retargeting Ads
Retargeting ads, also known as remarketing ads, are online ads that target specific people who previously visited a website but did not become customers of that business.
Social Media Ads
These are ads that are published on social media platforms such as Facebook, Instagram, LinkedIn, or YouTube. They are often varied for different types of placement, or for viewing on either desktop or mobile devices.
Social media platforms allow different businesses to advertise their products or services using advanced targeting tools that can help advertisers to reach specific users with higher targeting accuracy.
Display Ads
These refer to adverts created to advertise a product or service in the form of visuals or text. They are displayed on websites within the display network.
Search engines such as Google have display networks (Google Display Network) that help advertisers reach users as they browse on different websites, watch videos, check their email, or use their mobile devices.
Social Media Advertising Methods
Image Ads
These are ads that consist of images and provide information on a product, service, or business.
Carousel Ads
These are ads that combine multiple images and videos into a single carousel or slideshow-like ad.
Product Ads
These are ads that promote specific products and can be linked to product listings.
Collection Ads
These are ads (typically on Facebook) that include a cover image or video, followed by three or four product images.
Interactive Ads
These are ads that display rich media such as videos, audio, or GIFs, making the content stand out from regular static ads.
Lead Ads
These are ads that allow advertisers to find interested consumers and collect their information.
Video Ads
These are ads that incorporate in-feed video content featuring a video thumbnail.
Text Ads
These are ads that feature text or text links used by advertisers to promote brand messages and products.
The Importance of Finding Your Audience
Being able to identify and define your target audience is a key aspect separating successful advertising strategies from ineffective ones. There are various reasons why deciding your audience is highly important:
Helps you focus on customer needs: This has already been covered in the section on solution-selling, but to be able to meet a consumer's needs, you need to know them first and understand their pain points. Consumers will engage with the brands they feel understand them and their needs.
Allows more accurate targeting: Digital advertising now enables more accurate targeting that allows you to specify who your customer is by using key variables that pertain to your brand, product, or service. Knowing your audience allows you to curate advertising campaigns that have high targeting accuracy, meaning that the people who see your ads are the ones most likely to convert to being your customers.
Saves you time and money: Knowing your audience allows you to make significant cost savings due to targeted reach. You are able to achieve higher ROI because of higher lead conversion, meaning that the cost of acquiring new customers becomes lower in the long run. You will also no longer have to go through lengthy customer acquisition or conversion processes, as the audience you'll target includes the people who actually want and need your product or service.
What Advertising Tools Should You Be Using in 2021?
1. Instagram Shopping
Instagram's storefront feature allows for easy social selling, enabling customers to buy products they see in your Instagram feed.
This is a customizable storefront that enables product catalog integration and the curation of product collections that can be linked to your brand's online store.
2. Happy E-mail
This is smart and efficient customer email software that enables brands to send customers automated thank-you messages after they've made a purchase.
With pre-written email templates, you are able to set automatic emails to be sent 30 minutes after customers have purchased something from your store, or for a welcome message to be sent when they've registered an account. This makes customers feel recognized by the brand and helps build customer loyalty.
3. Smile.io
Speaking of loyalty, Smile.io is a platform that enables you to easily set up loyalty programs for your business, providing customers with loyalty points while managing referral programs, as well as offering a rewards structure.
Investment in these types of tools will be great for building a brand community, and increasing both customer satisfaction and retention.
Estimated Costs
There are different online advertising pricing models depending on the various platforms, whether you're running search ads on either Google Ads or Bing Ads, or social media and video ads using Facebook Ads, Instagram Ads, or YouTube. Here's a list of the estimated costs of the common ones:
Cost-Per-Click or Pay-Per-Click Advertising (PPC advertising)
This refers to the amount paid by the advertiser to the publisher for every click the advert attracts, with this click redirecting to the desired landing page.
Google Ads: US $0.58
Facebook Ads: US $0.80
Instagram Ads: US $0.61
Cost-Per-Mille (CPM) or Cost-Per-Impression advertising
Cost-per-mille stands for cost per 1,000 impressions, referring to the average amount paid every thousand times your ad is run online.
Facebook Ads: US $5.12
Instagram Ads: US $5.14
Cost-Per-Action
This refers to the cost an advertiser pays when the user performs a specific action, which could be an installation, click to redirect to e-commerce sites, trigger certain buttons, or conversion into a lead. This type of pricing model is most commonly used in different forms of affiliate marketing.
Facebook Ads: US $18.68
Google Ads: US $59.18
Cost-Per-Acquisition (CPA)
This is the aggregate cost advertisers pay for acquiring a paying customer, whether on a campaign or channel-wide. With this model, you only pay when the user has completed a desired transaction (this could be a purchase or a download).
You calculate CPA using the following formula:
($) Total spent on acquiring new customers using channel or campaign / (#) of new customers that were acquired using that channel or campaign = ($) Cost-Per-Acquisition
Cost-Per-Lead (CPL)
This is specific to ad campaigns that are run with the goal of obtaining leads and converting users. It refers to the cost an advertiser pays for explicit sign-ups from interested consumers.
You calculate CPL using the following formula:
($) Total spent on the digital marketing program / (#) of leads coming from the program = ($) Cost-Per-Lead
Video Marketing: US $174
LinkedIn Advertising: US $75
Social Media Advertising: $58
Search Engine Optimization: $31
Cost-Per-Install (CPI)
This is specific to mobile apps and refers to the rate advertisers have to pay for the acquisition of new users through app installations. The advertiser is only charged in the event that the app has been installed.
Facebook Ads: US $2.84–8.53
Instagram Ads: US $2.14–6.43
Cost-Per-View
This is quite self-explanatory, it refers to the cost the advertiser pays for every view their video ad gets or the interactions generated because of the video. Views are counted when either 30 seconds is watched or the viewer engages with the video ad.
Ways E-commerce Businesses Can Get Free Advertising
Free advertising is great because it offers your business three advantages: cost-saving (allows you to stretch your budget), creativity (trigger out-of-the-box thinking and strategies), and word of mouth (spurs amplification of community or customer-based referrals).
Some ways to get free advertising include:
Putting up a listing on Google My Business, Bing Places, Foursquare, and MapQuest
SEO-based web or social media content
Setting up a Facebook page with promotional covers
Opening a Pinterest account for your brand
Uploading YouTube videos with "How to" content
Setting up a LinkedIn page
Sharing blog content on BizSugar or Medium
Replying to questions on Quora or Reddit
Publishing guest blogging posts for relevant blogs
Conducting email marketing using customer emailing lists
Courtesy: Shopify