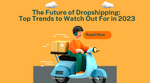 Dropshipping has exploded in popularity over the last few years as an appealing business model for entrepreneurs and online sellers. By acting as a middleman between suppliers and customers, dropshippers are able to sell products without holding any inventory. This allows for low startup costs and the flexibility to test new product niches more easily.

However, the future prospects of dropshipping look quite different today than they did just a couple years ago. With increasing competition and new challenges for ecommerce businesses on the horizon, it's important for current and aspiring dropshippers to understand the key trends that will shape the industry in 2022.

In this blog post, we'll highlight some of the top predictions for the future of dropshipping so you can position your business for success.

## Finding Your Niche Will Become More Important

As the dropshipping industry matures and more sellers get into the game, finding a profitable and sustainable niche will only get harder. Generic dropshipping stores that sell a bit of everything already face tremendous competition. To stand out and thrive in 2022, specific product specialization will be key.

The best dropshipping niches provide three key factors:

* **Demand** - There must be sufficient consumer demand and interest in the products you plan to sell. Avoid obscure products that lack an established target audience.

* **Profitability** - Research your planned products thoroughly to ensure there's enough margin between wholesale costs and retail prices. Unprofitable products won't sustain a dropshipping business.

* **Supplier Availability** - Sourcing reliable suppliers who consistently have inventory available for your niche products is critical for order fulfillment. Make sure you've verified suppliers before fully committing to a niche.

Great niche examples that can work well for dropshipping include camping/hiking gear, baby products, pet supplies, fitness equipment, and crafting materials. However, do your own product research and look for untapped sub-niches as well.

## Automation Will Play a Bigger Role

Because order fulfillment and logistics pose one of the biggest challenges in dropshipping, sellers will continue adopting automation to streamline their businesses in 2022.

Automated order processing through inventory/order management software removes the routine grunt work associated with purchases, payments, and shipments. This enables dropshippers to scale up their operations and handle more volume without major additional effort.

Intelligent marketing automation also helps by automatically targeting ads, sending emails, and personalizing shopping experiences for customers. This replaces tedious manual work with tailored messaging that converts abandoning visitors into paying customers.

For dropshippers seeing rapid growth, implementing automation early on can prevent your business operations from getting overwhelmed. Look for user-friendly automation software that seamlessly integrates across your sales channels, suppliers, and tools.

## Social Commerce Will Open New Sales Avenues

Social media and social commerce represent an emerging sales channel with huge potential for dropshipping. Platforms like Facebook, Instagram, Pinterest, and TikTok all now allow businesses to set up shop directly on their apps and enable in-app purchases.

Dropshippers who capitalize on selling through social commerce could tap into combined audiences of over 3 billion users. The convenience of buying within platforms where people already spend lots of their time provides a big opportunity to convert passive social media users into paying customers.

Success with social selling, however, requires dedicating time and effort into building an authentic community and nurturing engagement. Quality lifestyle content, influencer partnerships, and utilizing features like live video will be key.

But the work involved will pay dividends for dropshippers able to cultivate loyal followers and position themselves as experts on social media. Focus on 1-2 key platforms that allow organic growth within your product niche.

## Tools & Subscriptions Will Replace Upfront Investments

In the past, launching a successful dropshipping business required significant upfront investments. From purchasing a custom online store to buying product inventory, sellers often needed thousands of dollars to get started and cover ongoing operating expenses.

However, the rise of ecommerce platforms like Shopify and WooCommerce have enabled dropshippers to setup beautiful online stores at little to no cost. Useful apps provide critical marketing, automation, and analytics capabilities through affordable monthly subscriptions.

Even securing early inventory is no longer essential, as print-on-demand dropshipping and virtual warehousing remove the need to place large sample orders. This means almost anyone can start a lean dropshipping business without huge initial funding.

Moving forward, expect more tools and services catered to dropshippers that provide pay-as-you-go access through low monthly fees. For bootstrapping entrepreneurs, this underscores a future where ingenuity matters more than initial capital.

## Logistics Will Pose New Hurdles

For all its advantages, dropshipping forces sellers to rely on external suppliers and shipping carriers to deliver orders to customers. This makes dropshippers vulnerable to disruptions in supply chains and distribution networks outside of their control.

In 2022, ongoing global supply chain bottlenecks, shipping delays, and rising fulfillment costs will test the sourcing strategies and margins of many dropshipping businesses. Finding and vetting suppliers that can consistently ship inventory without long delays or inflated shipping rates will become paramount.

Regional restrictions imposed due to COVID-19, Brexit, and other factors can also suddenly cut off access to supplier pools. Look for suppliers located close to your target customer geographies whenever possible.

Lastly, make your order fulfillment as resilient as possible by sourcing redundant suppliers and shipping carriers. Don't rely too heavily on just 1-2 options to avoid collapse should issues arise.

## Turnkey Business Solutions Gain Traction

For entrepreneurs seeking a faster, simpler track to launching a successful dropshipping business, turnkey ecommerce solutions have strong appeal.

Turnkey dropshipping providers like <a href="https://shopmaster.com">Shopmaster</a> offer ready-made online stores that are setup and optimized for you under a proven business model. This allows buyers to bypass the hassles of registering a business entity, structuring an online shop, researching suppliers, and configuring logistics.

For a one-time purchase fee, turnkey dropshipping businesses come bundled with established product listings, branding assets, marketing analytics, and support. Owners can quickly Customize stores to fit their personal preferences.

While less flexible for sellers who want full control over every aspect of their business, turnkey dropshipping represents an easier entry point forbeginners. Expect tailored turnkey solutions around niche product categories to gain popularity moving forward.

## Stronger Emphasis on Design & Branding

The rising number of dropshipping stores also means customers have more choice and higher expectations around their shopping experiences. To stand out from the competition, dropshippers will need to step up their branding and web design.

A generic, cookie-cutter store lacking in visual polish and personality is unlikely to inspire trust or loyalty with customers. Investing in custom branding assets like your logo, color palette, and packaging goes a long way.

Ensure your online store loads quickly and shopping pages feature clear UI/UX design. Little details like high-quality photos and strong calls-to-action make a difference.

Ongoing content marketing across your website blog, emails, and social channels should also align with your brand identity. Consistency in messaging and visuals makes brands more memorable.

While seemingly superficial, good design and branding indicates your business is built to last. Don't cut corners in these areas.

## Reliable Supplier Relationships Are a Must

The reality of dropshipping means third-party suppliers fulfill everything you sell. Even minor hiccups with inventory availability or order accuracy from suppliers can sink your business's reputation.

With so much riding on supplier performance, dropshippers will shift focus to vetting suppliers and forming long-term partnerships. Factors like consistent order fulfillment rates, product quality, and responsiveness to issues will be priorities.

Building personal relationships with supplier reps can go a long way. Be willing to commit to higher order volumes with fewer suppliers to gain leverage for better contract terms. Ramping up due diligence around suppliers will minimize fulfillment hiccups.

## SEO Strategies Evolve Again

The days when superficial backlinking and keyword stuffing worked for search engine optimization (SEO) are long gone. Google and other search engines have grown adept at understanding searcher intent and identifying artificial SEO tactics.

Winning the SEO game in 2022 requires building high-quality content and website experiences that genuinely resonate with your target customer interests. This means:

* Publishing blog content that provides real value for readers in your niche.
* Optimizing pages for long-tail keyword phrases used in early research stages.
* Structuring URLs, title tags, and headings for semantic SEO.
* Generating backlinks through guest posting on authority websites.
* Distributing shareable content to build relevance and awareness.

With Google's core search algorithms evolving again this year, staying on top of ethical SEO strategies will be key. Don't rely on shady shortcuts - great content and customer experience is what matters.

## Watch Out for Stricter Advertising Policies

Facebook advertising, Google Shopping, and other paid platforms provide powerful ways to promote dropshipping stores and attract customers. But relying solely on paid advertising leaves you vulnerable.

Looking ahead, expect paid advertising policies to continue getting stricter. Facebook has already banned certain aggressive retargeting tactics and incentives like coupon codes in ads. Responding to regulatory pressure, expect platforms to limit data collection and ban promotions that seem deceptive.

Budget-friendly social media advertising may also diminish as platforms like Facebook perfect premium ad targeting capabilities and siphon budgets away from unoptimized mass ad campaigns.

The takeaway is not to put all your eggs in one basket. Diversity your traffic sources across SEO, email marketing, and social promotion instead of over-relying on advertising alone. Plan for turbulence.

## Crypto Payments Go Mainstream

Despite the volatility, cryptocurrency adoption continues rising sharply year after year. Mainstream payments companies like PayPal and Square now support crypto transactions.

For online businesses, accepting payments through crypto coins and tokens provides access to a massive emerging consumer base - especially younger demographics drawn to digital assets. This allows you to benefit from the hype and tap into the wealth generated through crypto investing.

However, the decentralized aspect of crypto payments comes with familiar challenges like price volatility, transaction delays, and lack of recourse. Make sure your payment processor offers security and protection in case issues arise.

Hedging some of your business's crypto exposure by converting a portion of payments back into stable currency can offset risks from wild price swings. As fraud concerns get ironed out, expect crypto payment processing for ecommerce to accelerate.

## International Expansion Opens New Markets

Ambitious dropshipping businesses will look to expand globally and unlock new customer demographics in 2022. While domestic markets like the U.S. and Canada will remain lucrative, the global ecommerce opportunity is too large to ignore.

Platforms like Shopify and Amazon make international sales easier by handling nuances around translations, local currencies, taxes, and shipping. Use geospecific landing pages, multilingual ads, and search trend data to identify which new markets represent the best opportunities.

However, be careful not to overextend yourself across too many regions at once. Focus on learning the unique needs, cultural preferences, and logistical requirements for one new target country at a time for sustainable growth.

# Concluding Thoughts

The dropshipping model provides accessible opportunities for entrepreneurial thinkers to build scalable ecommerce businesses with minimal upfront investment. However, keeping a pulse on upcoming trends allows you to preempt the upcoming challenges on the horizon.

By staying agile and proactively positioning your business for long-term success, aspiring dropshippers can thrive through the rapid changes ahead. Now is the time to make strategic pivots so your business can survive and thrive in the era of modern dropshipping.