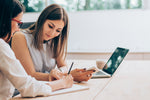 What do Bill Gates, Steve Jobs, and Eric Schmidt have in common besides the fact that they are all successful billionaires in the tech industry? These three all have (or had) coaches. In fact, it's not just them, Barack Obama as well as Oprah Winfrey have shared that they also use coaches to guide them in their careers.
Coaches or mentors are important–at least 76% of people think they are. However, only 37% have one.
Mentors of the Mentors
Mark Zuckerberg, you know him. He's the co-founder of Facebook that's now a social media giant. His mentor was the one and only Steve Jobs, the founder of Apple. Zuckerberg recalls this one time when Jobs told him to visit a temple in India. It became Zuckerberg's turning point as with it, he understood what he needed to do.
Even Oprah had a mentor! Maya Angelou, poet and civil rights activist, taught her how to stay grounded. Oprah once said,
I think mentors are important and I don't think anybody makes it in the world without some form of mentorship. Nobody makes it alone. Nobody has made it alone. And we are all mentors to people even when we don't know it.
Do you Need One?
It does not matter whether you have been in the business field for a long time. A business coach or mentor will help you navigate the ever-changing world of online entrepreneurship. Like this field you entered, you should strive for constant growth. Having a coach, especially when you have an online business, is important because they can help you navigate the online business world. The online market doesn't behave in the same way as the traditional market, and it's easy to make mistakes even for veteran businessmen.
So, to answer the question above: yes, you and your online business will be better off with a business coach.
You can't deny that, when starting an online business, there will be missteps. There will be mistakes made. Your business coach knows this because he or she might have already made these errors in the past. Coaches share a lot of these horror stories so listen carefully to avoid making the same mistakes.
Success doesn't fall from the sky and onto your lap. Starting an online business is difficult, but with a coach and mentor, you're not alone. It will still be nerve-wracking, but having someone there to guide you and to keep you from making foolish decisions will be enough to keep you going.
This is the no. 1 reason why we offer Business Coaching & Mentorship in all of our business packages.  We want you to succeed and we understand how important it is to have someone there by your side that has been in your shoes and understands how to launch a new business successfully.