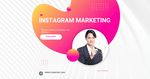 Instagram marketing is a powerful way to reach a large audience and promote your brand, products, or services. Here is a guide on how to effectively market on Instagram:
Optimize your profile: Make sure your Instagram profile is professional and reflective of your brand. Use a clear profile picture, a descriptive bio, and a link to your website.

Create high-quality content: Post visually appealing and high-quality photos and videos that align with your brand and resonate with your target audience. Use relevant hashtags and captions to increase visibility.

Engage with your audience: Respond to comments and messages, and actively engage with other users. This can help build a community around your brand and increase visibility.

Use Instagram Stories: Instagram Stories are a great way to connect with your audience and share behind-the-scenes content. Use features such as polls, quizzes, and questions to increase engagement.

Utilize Instagram Insights: Instagram Insights provide valuable data on your followers, engagement, and performance of your posts. Use this data to improve your strategy and target your audience more effectively.

Run Instagram ads: Instagram offers a range of advertising options, including photo, video, and carousel ads. These ads can be targeted to specific demographics and interests, making them a powerful way to reach new audiences.

Collaborate with influencers: Collaborating with influencers can help increase your visibility and credibility. Look for influencers in your niche who align with your brand and have a large following.

Keep track of your results: Keep track of key metrics such as engagement rate, follower growth, and website traffic to measure the effectiveness of your Instagram marketing efforts.
By following these tips, you can effectively use Instagram to grow your brand and reach a larger audience. Remember to be consistent with your posts, engage with your audience and keep track of your results to optimize your strategy.