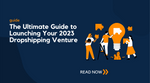 Dropshipping has emerged as a popular way for online entrepreneurs to sell their products without the need for physical inventory. That said, it has made it easy for anyone to start their own online business, despite their given limitations. If you're planning to launch a dropshipping venture in 2023, this guide will provide you with all the information you need to get started.
Step 1: Choose Your Niche
The first step in launching a successful dropshipping venture is to choose the right niche. Consider your interests, passions, and hobbies. What products are you most familiar with? What products do you enjoy using yourself? Once you've identified your niche, research the market to ensure there is a demand for those products.
Step 2: Research Suppliers
Finding the right suppliers can make or break your dropshipping venture. Look for suppliers who offer competitive prices, quality products, and reliable shipping times. Check reviews and ratings of suppliers to ensure they have a good reputation in the industry.
Step 3: Build Your Online Store
Building an online store is easier than ever before. With platforms like Shopify and WooCommerce, you can create a professional-looking store in just a few clicks. Choose a design that matches your brand and ensures easy navigation for your customers.
Step 4: Develop a Marketing Strategy
Once your store is up and running, it's time to start marketing your products. Develop a marketing strategy that aligns with your brand and target audience. Consider using social media, email marketing, and paid advertising to reach your target customers.
Step 5: Launch Your Store
Before you launch your store, make sure everything is in place. Test your website to ensure everything is functioning correctly, including your payment gateway and shipping options. Once everything is set, it's time to launch your store and start selling!
Step 6: Analyze Your Results
After launching your store, it's essential to analyze your results regularly. Track your sales, traffic, and conversion rates to identify areas for improvement. Use this data to refine your marketing strategy and improve your overall performance.
Step 7: Expand Your Product Line
As your dropshipping venture grows, consider expanding your product line to increase your revenue. Research new products within your niche and look for opportunities to add complementary products to your store.
Step 8: Provide Excellent Customer Service
It is essential to a dropshipping business's growth and profitability to provide outstanding customer service. It is important to immediately respond to consumer concerns, give hassle-free returns, and provide regular updates regarding shipment. Customers who are satisfied are more likely to provide positive feedback and suggest that others visit your store.
Step 9: Scale Your Business
After you have demonstrated that your dropshipping business is profitable, it is time to expand it to a larger scale. To free up more of your time to focus on other important responsibilities, you might want to think about outsourcing activities such as providing customer service and fulfilling orders. Look for chances to broaden your business's reach internationally and enhance the number of products you provide.
Conclusion
Launching a dropshipping venture in 2023 can be a profitable and exciting opportunity. With the right niche, suppliers, and marketing strategy, you can build a successful online business. Remember to prioritize excellent customer service and regularly analyze your performance to identify areas for improvement. With dedication and hard work, you can create a thriving dropshipping venture.
If you are looking for a great source of online businesses for sale,  look no further than our profitable selections here at Ecom Chief. Our team has over a decade of experience in running profitable online businesses. We have helped hundreds of people all with little to no experience create successful work from home businesses, so you don't have to do it alone. Call us today for more information about our available business options and their prices.