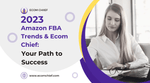 Amazon FBA continues to evolve at a rapid pace, bringing new strategies, tools and opportunities for ambitious entrepreneurs. Those who understand emerging trends will be best positioned for success in the coming years. This guide explores several developments to watch in 2023, as well as how partnering with Ecom Chief can give new sellers an edge in launching and growing their own in-demand buy amazon fba store.
Key Amazon FBA Trends on the Horizon
Anticipated changes include:
Growing Competition - More sellers means greater need to differentiate through innovative products/brands. Industrialization of FBA may hamper smaller operators.

Rising Customer Expectations - As Amazon dominance grows, speedier delivery and enhanced customer service will make or break sellers. Multi-channel expansion also on the rise.

Expanding Platforms - Watch for Amazon expanding internationally and penetrating new categories like luxury goods, local marketplace integrations with buyouts like Whole Foods for exponential reach. Sellers must diversify.

Increased Automation - AI/machine learning will personalize on-site and off-site shopping experiences. Sellers able to leverage advanced analytics gain competitive insights.

Sustainability Focus - Consumers increasingly concerned with eco-packaging and ethical supplier/labor practices. Values-driven FBA brands have huge upside.
Adapting business models early to these transitions gives ambitious entrepreneurs an edge. But starting from scratch presents challenges - this is where partnering with an experienced industry player proves invaluable.
How Ecom Chief Helps Launch Your FBA Business in 2023
Ecom Chief has years ofdomain experience launching and scaling best-selling Amazon brands. Their end-to-end solutions cure much of the usual headaches associated with starting solo, including:
buy an fba business - For those seeking a proven asset, Ecom Chief selects high-potential existing FBA stores for acquisition at competitive prices. Requires no product research/development stages.

Product Research Sourcing - Leverage Ecom Chief's supplier network of vetted overseas manufacturers for private labeled, cost-efficient innovation.

Brand Development Support - Full creative services for branding, package/label design, product photography optimize shelf impact.

Listing Setup Services - Professional listing writing, keyword/title structuring based on proven high-converting Amazon best practices.

Order Fulfillment Management - Outsourced storage, packing and shipping via FBA means one less operational hassle for you.

Amazon Advertising Assistance - Testing and optimizing sponsored ads campaigns leveraging years of data-driven experience.
Partnering with industry leaders like Ecom Chief sets up new sellers for demonstrable success by circumventing the growing pains that often plague first-time FBApreneurs. If starting or expanding your own Amazon business in 2023, their proven solutions gain a powerful edge.
Additional Benefits of Choosing Ecom Chief's Proven Amazon Solutions
Some added benefits of working with Ecom Chief's veteran Amazon experts include:
Immediate Revenue Potential - Acquired stores already producing income versus wait time of launching from scratch.

Minimal Risk Exposure - Mitigated startup costs, product/market research uncertainty when leveraging an established model.

More Time to Focus on Growth -Outsourced operational responsibilities provide bandwidth to scale offerings faster.

Access to Capital - Ecom Chief funding solutions enable store purchase and growth efforts without large upfront costs.

Continued Guidance - Ongoing training, support ensures new sellers sustain momentum in a rapidly maturing industry.
Positioning yourself with a trusted collaborator like Ecom Chief provides budding entrepreneurs of all experience levels opportunity and empowerment to succeed on Amazon now and long into the future of commerce. Let their team of experts take your vision from concept to high-volume revenue reality in 2023 and beyond.