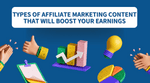 Affiliate marketing is a popular and effective way to generate revenue online. It involves promoting someone else's products or services and earning a commission for each sale made through your affiliate link. However, to be successful in affiliate marketing, you must create content that resonates with your audience and convinces them to purchase. This article will discuss five types of affiliate marketing content that appeal to your audience and help you increase your affiliate earnings.
Product Reviews
They provide an in-depth product or service analysis, highlighting its features, benefits, and drawbacks. Product reviews help your audience make informed decisions about whether to buy a particular product or not. They also showcase your expertise and authority in your niche, which builds trust and credibility with your readers.
When writing product reviews, be honest and transparent about your experiences with the product. Include positive and negative aspects and any personal anecdotes or examples that illustrate the product's value. Use images and videos to showcase the product and provide a comprehensive overview of its features and benefits.
How-to Guides
They provide step-by-step instructions on using a product or service to achieve a specific goal or solve a problem. How-to guides are valuable because they provide actionable advice your audience can implement immediately.
When creating how-to guides, focus on the problem or pain point that your audience is experiencing. Break the process down into simple, easy-to-follow steps and use visuals to illustrate each step. Be concise and clear in your instructions and use a conversational tone to engage your audience.
Comparison Articles
Comparison articles are a great way to showcase the differences between two or more products or services. They help your audience make informed decisions by highlighting the strengths and weaknesses of each option. Comparison articles are particularly effective for products or services that are similar in nature, such as web-hosting providers or email marketing tools.
When creating comparison articles, focus on the features and benefits that matter most to your audience. Use a clear and concise format, with a table or chart that compares the key features of each option side-by-side. Be objective and unbiased in your analysis, and only make a definitive recommendation if you have personally used both products or services.
Listicles
Listicles are a popular and effective type of affiliate marketing content that provides a curated list of products or services your audience may be interested in. They can be structured in various ways, such as "top 10" or "best of" lists, and can cover various topics and products.
Include a brief overview of each product or service, highlighting its key features and benefits. Use visuals such as images or videos to showcase the products and make the list more engaging.
Conclusion
In conclusion, affiliate marketing is a great way to earn passive income online, but it requires creating content that resonates with your audience. By using the five types of affiliate marketing content discussed in this article - product reviews, how-to guides, comparison articles, case studies, and listicles - you can create valuable content that appeals to your audience and drives affiliate sales. 
If you're searching for affiliate businesses for sale and want to run your online business, you've arrived at the right place. The Ecom Chief team has a decade of experience operating profitable online businesses. We've assisted countless individuals, with minimal to no experience, in creating successful work-from-home businesses, so you won't have to go solo.