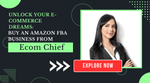 Introduction
In the ever-evolving landscape of e-commerce, Amazon's FBA (Fulfillment by Amazon) program has emerged as a lucrative opportunity for entrepreneurs seeking a turnkey business. With the rise of online shopping, the demand for FBA businesses has surged worldwide. Whether you're in the USA, UK, Canada, or Australia, there's a golden opportunity waiting for you to dive into the world of Amazon FBA. In this blog, we will explore the benefits of buying an Amazon FBA business from Ecom Chief and delve into the process of making your e-commerce dreams come true.
**1. Buy Amazon FBA Business in the USA: Your Path to Success**
When it comes to e-commerce, the USA is undoubtedly a goldmine. The American market's vast consumer base offers unlimited potential for growth. By purchasing an Amazon FBA business in the USA, you can tap into this enormous market and start generating income right away.
Ecom Chief specializes in providing ready-made Amazon FBA businesses designed to help you succeed in the competitive American market. With their expertise, you can bypass the challenges of starting from scratch and begin your e-commerce journey with a business that's already set up for success.
**2. Buy Amazon FBA Business in the UK: Expand Your Horizons**
The United Kingdom is another prime market for e-commerce enthusiasts. Its well-established infrastructure, high purchasing power, and tech-savvy population make it an attractive destination for Amazon FBA business buyers.
Ecom Chief offers Amazon FBA businesses for sale in the UK, providing you with an opportunity to expand your business into this thriving market. Their turnkey solutions ensure a seamless transition into the UK e-commerce landscape.
**3. Buy Amazon FBA Business in Canada: The Gateway to North America**
Canada, with its proximity to the USA and a growing e-commerce sector, offers a strategic entry point into the North American market. Purchasing an Amazon FBA business in Canada from Ecom Chief allows you to access not only the Canadian market but also the broader North American consumer base.
Ecom Chief's expertise in creating FBA businesses tailored to the Canadian market ensures a smooth and successful venture into this promising territory.
**4. Buy Amazon FBA Business in Australia: Ride the E-commerce Wave Down Under*
*
Australia's e-commerce market has been on the rise in recent years, and it presents a fantastic opportunity for those looking to buy an Amazon FBA business.
Ecom Chief
offers turnkey Amazon FBA businesses for sale in Australia, making it easier for you to enter this dynamic market and capitalize on the growing demand for online shopping.
**5. How to Buy an Amazon FBA Business: Your Step-by-Step Guide**
Now that you're convinced of the benefits of purchasing an Amazon FBA business, let's dive into the process of making it happen.
**Step 1: Research and Identify Your Niche**
Before you start browsing through the businesses available at
Ecom Chief
, it's essential to identify your niche. Research different product categories, trends, and market demands to find a niche that aligns with your interests and goals.
**Step 2: Explore Ecom Chief's Listings**
Visit Ecom Chief to explore their listings. You'll find a wide range of businesses tailored to various markets and niches. Browse through the available options to find the one that suits your vision.
**Step 3: Conduct Due Diligence**
Once you've found a business that piques your interest, it's crucial to conduct thorough due diligence. Review the business's financial records, performance metrics, and customer feedback provided by
Ecom Chief.
This step ensures you're making an informed decision.
**Step 4: Negotiate the Deal**
Contact
Ecom Chief
to express your interest in a particular business. Negotiate the terms of the sale, including the purchase price and any additional agreements.
Ecom Chief's
team will guide you through this process and help you reach a fair deal.
**Step 5: Complete the Purchase**
Once you've agreed on the terms, it's time to complete the purchase.
Ecom Chief
will facilitate the transfer of the Amazon FBA business to your name, ensuring a smooth transition.
**6. Turnkey Amazon FBA Business for Sale: The Ecom Chief Advantage**
Why choose
Ecom Chief
for your Amazon FBA business purchase? Here are some compelling reasons:
- **Expertise**
:
Ecom Chief
specializes in creating and selling Amazon FBA businesses. Their team has a deep understanding of e-commerce trends, marketing strategies, and product selection, ensuring that the businesses they offer are optimized for success.
- **Proven Track Record**
:
Ecom Chief
has a track record of successful Amazon FBA business sales. Many entrepreneurs have achieved their e-commerce dreams by purchasing businesses from
Ecom Chief.
- **Customization**
:
Ecom Chief
tailors their businesses to specific markets, ensuring that you receive a turnkey solution designed for success in your chosen location.
- **Ongoing Support**
:
Ecom Chief
provides ongoing support and guidance to help you navigate the e-commerce landscape effectively. Their expertise is not limited to the sale; they're invested in your long-term success.
**Conclusion: Make Your E-Commerce Dreams a Reality with Ecom Chief**
Whether you're in the USA, UK, Canada, or Australia, the opportunity to own a successful Amazon FBA business is within your reach.
Ecom Chief
offers a range of turnkey solutions designed to help you enter the e-commerce world seamlessly.
Don't miss out on the chance to secure your financial future and embark on an exciting entrepreneurial journey. Visit
Ecom Chief
today and take the first step toward e-commerce success. With
Ecom Chief
by your side, your dreams are just a click away.
*Disclaimer: This blog is for informational purposes only and does not constitute financial or investment advice. Always conduct thorough research and consult with professionals before making any business decisions.*