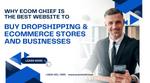 In today's digital era, online business opportunities are flourishing, and the concept of dropshipping has gained significant popularity. Aspiring entrepreneurs are constantly seeking reliable platforms to venture into the world of eCommerce, looking for opportunities to be their own boss and work from the comfort of their homes.
Ecom Chief
has emerged as a prominent player in the market, offering a wide range of dropshipping and eCommerce stores and businesses. In this blog post, we will explore why
Ecom Chief
stands out as the best website for individuals looking to buy online businesses, achieve financial independence, and generate passive income.
1. Comprehensive Selection of Dropshipping and eCommerce Stores
Ecom Chief
boasts an extensive collection of ready-to-launch dropshipping and eCommerce stores. From niche-specific stores to general product marketplaces, their inventory caters to a wide range of interests and preferences. Whether you are passionate about fitness, fashion, technology, or home decor,
Ecom Chief
has a store to match your vision.
Moreover, each store listed on the website is carefully curated and optimized for maximum performance. These stores are designed with conversion-focused layouts, eye-catching designs, and user-friendly interfaces, ensuring that you have a solid foundation to build upon.
2. High-Quality and Profitable Business Opportunities
When it comes to buying online businesses, it is crucial to invest in high-quality and profitable opportunities.
Ecom Chief
understands this and prioritizes the vetting process for each store listed on their platform. They ensure that every store has a proven track record of generating revenue and follows ethical business practices. By purchasing a business from
Ecom Chief
, you can minimize the risks associated with starting from scratch and benefit from a business with a solid customer base, established suppliers, and reliable marketing strategies.
3. Tailored Solutions for Aspiring Entrepreneurs
Ecom Chief
is dedicated to empowering aspiring entrepreneurs with the tools and knowledge they need to succeed. In addition to offering pre-built stores, they provide comprehensive support and resources to help you navigate the world of eCommerce. From marketing strategies to SEO guidance,
Ecom Chief
equips you with the necessary skills to drive traffic and boost sales.
Furthermore,
Ecom Chief
offers customizable options, allowing you to make changes to your purchased store to align it with your brand and business goals. This flexibility enables you to stand out in the market and create a unique online presence.
4. Be Your Own Boss and Work from Home
One of the primary reasons people turn to online businesses is the desire to be their own boss and achieve a better work-life balance.
Ecom Chief
understands this aspiration and presents a platform that enables individuals to fulfill their entrepreneurial dreams. By purchasing a dropshipping or eCommerce store from
Ecom Chief
, you gain the freedom to work from home or anywhere with an internet connection. This flexibility provides you with the opportunity to manage your own schedule and take control of your professional life.
5. Entrepreneurship and Passive Income
Entrepreneurship and passive income go hand in hand, and
Ecom Chief
facilitates both. As an eCommerce store owner, you have the potential to generate passive income by leveraging automation and strategic marketing. Once you have set up your business and established reliable systems, you can enjoy the benefits of recurring revenue and financial stability.
Ecom Chief's
expertise in eCommerce and dropshipping equips you with the tools to maximize your passive income potential. With their guidance, you can tap into profitable niches, optimize your store for conversions, and scale your business for long-term success.
Conclusion
Ecom Chief
stands out as the best website for individuals looking to buy dropshipping and eCommerce stores and businesses. Their comprehensive selection of high-quality stores, tailored solutions for aspiring entrepreneurs, and emphasis on providing opportunities for financial independence make them the